Recently my sewing has been all about the wrap dress. Well, that is not entirely accurate, as I have about a zillion projects currently in progress. Sure, that is also an exaggeration but some days that's what it feels like. I just completed a dress from the May Burda magazine for myself, I made a pattern and from a pair of pants that I bought a while ago and liked the fit, I have several projects in the works for my friend Heather including a very sexy sleeveless black stretch denim version of
this dress
, AND then some wrap dress sewing in anticipation of a class I'm teaching in August at Hello Stitch.
I'm still regretting that I sewed up
the knit wrap dress
of the previous post in a slightly too small size for myself, but I will make up for that soon by sewing that
vintage Vogue DFV dress pattern
I snagged a few months back for the amazing sum of 25 cents. I'll revisit that one sometime, but in the meanwhile I also sewed up a dress to play around with another wrap dress pattern, and to have this example displayed at Stone Mountain Fabrics and promote the class.
This is the
Eve wrap dress
from Sew Over It patterns which is a UK pattern company. They stock the paper patterns at Stone Mountain so you can buy in the US on their website or at the store.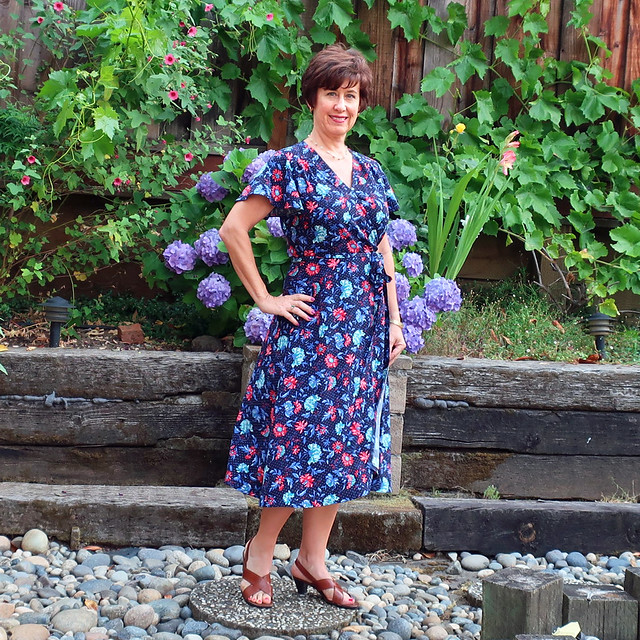 I made this dress in their size 10 with no adjustments and the fit was quite nice. I was really sewing it for a display item, but could you resist trying it on? not me! Plus it felt so unusual to have something at that hem length. If I were to make it for myself I would definitely shorten it as it feels like a lot of fabric. Perhaps I'm just not used to that length. And it does take a good bit of fabric.
However it does feel like the perfect dress for going to a tea party on a lawn somewhere, an event that I have never attended nor am likely to. (Also tea - eek, I can't stand tea! do they serve coffee also at tea parties or perhaps something a bit stronger?)
Here is the pattern envelope. Usually those flutter sleeves don't appeal to me but I think proportionally they work really well on this dress, and give it kind of a 1930's style. Fabric choice is critical for this dress, it needs something that drapes really well. I used a woven rayon from Stone Mountain. I'm not sure if they have the exact one still available but I see lots of woven rayon prints on their website that would work perfectly. I'm obsessed with fruit prints lately and now I want
this one.
Here's a closer view, you can see that it has some shoulder yoke pieces in the front and there are gathers which create the shaping over the bust instead of darts.
The pattern drawing shows it more clearly. There is also a waist seam front and back. In the drawing the wrap portions looks like it drapes at the waist but I didn't find that to be the case, neither on me or my dress form.
I was pleasantly surprised at how the wrap actually wrapped, in that the center front met properly, the V wasn't too low, and the neckline was just about right. I could even see making this in a jersey knit, it wouldn't really behave all that differently and the neckline edge is stabilized with tape so you would do that same step with a knit to keep it in shape. I was trying to slightly more serious in the blog picture - just for variety - instead of my usual grin. There is something about having my photo taken, I just can't not smile - excuse the double negative. And I think it looks a bit like an odd smirk. Ok maybe it's the week for weak double negatives and odd smirks and that is my political comment for the week - yikes - what a weird week it has been. Is it 2020 yet? Hang in there RBG is my other fervent wish!
Back to sewing stuff.
Note that I made the flutter sleeve version but used the skirt of the shorter version - and look how long it is on me. This is meant to be long I guess or just right for a tall person.
So that's the scoop on this pretty wrap dress, and I'm looking forward to seeing what everyone makes in the upcoming wrap dress
class
at Hello Stitch.
Another fun class that is very soon (Sat. July 28)
Pattern Hacks: Add new elements to your existing patterns.
I am really looking forward to this one, as you know I can't leave a pattern alone and I think it will be fun to show how to change darts, move seams, create color block elements and generally get more mileage from the patterns we already have. Sleeves! i almost forgot - ways to redesign the sleeve. Next week I'll be combing through my files and photos to prep for this class.
And one more look at that flowy skirt moving ever so slightly in the breeze. Check out that grapevine behind me, it's making a run for it over the fence, adds a lot of greenery and has never put out as much as one little grape. I keep it because it's pretty.
Up next, a few of those things mentioned in the first paragraph, and then maybe a t-shirt and another dress from the Burda magazine. or maybe I will spend many days in the pool because it has been really hot lately - and even with AC temps of 100℉ for days in a row really does start to wear. I know I love hot weather, but somehow the difference between 92 and 100 seems so much more than merely 8 degrees!
Happy Summer Sewing and stay cool wherever you are,
Beth
today's garden photo, when the heat sets in most of the roses get a bit limp and this one is a bit meager with the flowers, but that color makes up for it.