Every time I teach a class at
Hello Stitch
I ask people how they found out about the classes and the studio. Quite often they tell me they read about it on my blog. So with that as a consideration here's a review of what classes are coming up in the next few months. I really appreciate hearing that plenty of you wish you could join in to a class but unfortunately a continent or ocean is in the way. I would love to do some sewing classes along with travel next year if anyone wants to get in touch about that.
🙂
I will mention that we've had a number of people from out of town take classes - what a good excuse to pay your N. Cal friends a visit or just treat yourself to a bay area mini-vacation.* And I'll let you in on a little secret, it's September and October when they take all those amazing postcard photos of SF and the Golden Gate bathed in sunshine (instead of fog) Once the official summer is over we often have a glorious stretch of lovely weather.
So here's the scoop on upcoming classes. And if you are more interested in actual sewing details, scroll down to see what I'm working on and planning for fall. All the class titles/dates are links taking you to the info and registration page for that class on the Hello Stitch website.
Pattern Fitting Sunday August 26
is the next class up. This class is part hands-on pattern adjustments, where I teach you a bunch of the most common adjustments and you work on 1/2 scale practice patterns, and then the optional 2nd part of the day is a Fit Lab where we will fit a specific pattern for you. If you're thinking of doing the jacket sewing class later in Nov. it might be a great way to get that coat or jacket pattern fitted perfectly beforehand.
Sat. Sept 8: Make the Lander Pants from True Bias.
I just sewed up my Lander shorts this weekend and this pattern is quite easy. (and potentially versatile - of course I'm thinking about pocket and zipper variations). Anyway - I think it is just about sold out - might be one spot left. Based on the popularity I think we will probably offer this again but not until Dec. or Jan.
Thursday Sept. 27, 6-9 pm Pattern Basics: How to read sewing patterns
I love doing this class! Whether you are a beginner or getting back into sewing it's a great way to become familiar with current patterns. This class includes taking our measurements, reviewing the pattern sizing and how to choose a size. I'll do an explanation of symbols and terms, show how to cut out and mark your fabric pieces. And a discussion of what fabrics go with which patterns, pitfalls to avoid and tips for success in pairing fabric and pattern.
Sat. Sept 29: Sew a Wrap Dress
We just did this class a few weeks ago and the dresses everyone made were so pretty!! I
made the Sew Over It Eve Dress
and I think I might sew it up again, perhaps a winter version, in a ponte knit and a shorter length. (it says for wovens but I think a stable knit would be fine). Any wrap dress pattern, your choice.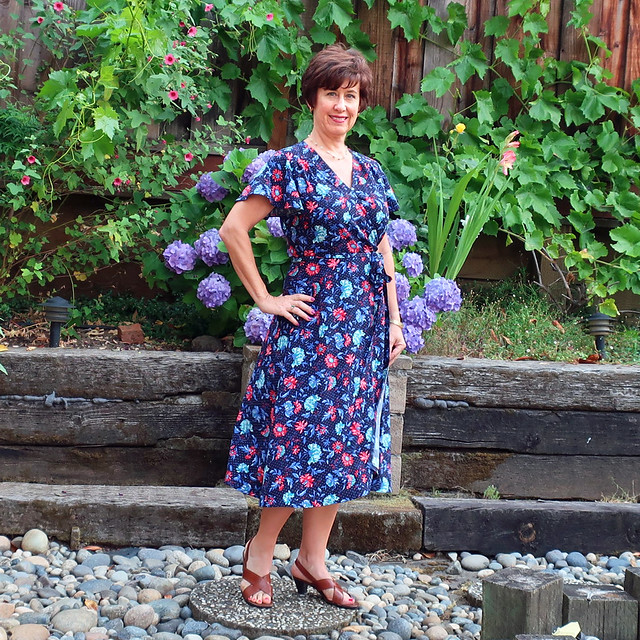 Sunday Sept. 30: Copy your Favorite Garment
This might be my most popular class and understandably so. We all have that perfect item in our closet we wish we could clone - and you can. Or a reasonable copy of. Or copy and then change the fit. So many options.
Oct. 13-14 Weekend Workshop: Cape Tailoring
Ready to dip your toe into sewing with wools? Putting in a lining? Buttonholes, pockets, a simple collar? Capes are definitely having a fashion moment and might be the perfect outerwear for our changeable bay area weather. This is a 2-day class with lunches included. On the class page we have a link to a Pinterest page of cape patterns. I am having a hard time choosing which one to sew!
Nov 3-4 Weekend Workshop: Jacket or Coat Tailoring
You know you want to make a coat or jacket and I want to be your enabler :) Jackets and coats are so rewarding to sew and you can dazzle your non-sewing friends who will be amazed. I plan to do a LOT of demonstrations of various techniques for outerwear and tailoring, including welt pockets and bound buttonholes, how/where/why to use interfacing and which ones for which part of the garment. Plus pressing! so much pressing! but it's the key to a professional looking garment and quite easy when you know how to do it and when. Lapels, collars, lining. I'm getting excited already. I am going to permit myself to make one more jacket this year (meaning 2018 - all bets are off for 2019) and I am planning to sew and demo in this class. This is a 2-day class with lunches included.
So that's my sewing class schedule for the next few months. It was scorching hot last week but I felt the need to sew up a new t-shirt so here's a sneak peek. This and the next item are fabrics I ordered as "add-on" items to get free shipping on two different orders from Fabric.com. And neither one made it onto a shelf - I cut them both out immediately. After all if you can wear wild florals and fruit prints in bright and sunshiny August then when can you?
This dress will get it's own nice blog post - and I'm not one for late-night sewing selfies but I was taking photos of the back to see the fit and took this one as well. And you can see hints of a multitude of projects in progress. By the way, my brief look at this dress on Instagram was maybe my most liked image - lemon prints are really popular.
And a knit top. I had coveted that fabric for ages and finally ordered a yard.
OK - back to all my current projects, and it's pleasantly cool this evening, perfect sewing weather :)
Hope to see you in a class at Hello Stitch. The one thing that might not come across in all the class descriptions is that they are really fun - what wonderful people I've met there. People bring snacks to share - we talk about our fitting dilemmas, and generally have a great day hanging out with other sewing fanatics.
* I mentioned a bay area mini-vacation at the top. A few people have found really nice Air B&B's near the studio and of course you can do some shopping at Stone Mountain too.
Happy Sewing,
Beth
Today's
garden
photo is a little geranium that I bought (don't tell anyone) but I typically never buy geraniums but, ahem...find cuttings
to plant
. However this one I did buy, and now have plenty of cuttings rooting to make more plants.