This teal green silk blouse has been a while in the making. Actually I should clarify, it is probably this post that has been a while in the making. I had the idea to make another silk blouse with the hidden buttonhole placket which I first did in
2011 where I used a silk charmeuse
that had a bit of stretch. I had never been quite happy with that version - although I wear it all the time and the color is definitely one of my favorites. So earlier this year I decided to try out this project again, starting from scratch and worked out all the details on
this blouse in a printed silk.
And then I figured it would make a nice how-to post for Craftsy in the solid color. So here it finally is. Plus I have been wearing it a lot! Quite surprised at the frequency but it does hit all my sweet spots - bright jewel tone, luscious silk, goes with a lot of other stuff in my wardrobe, looks dressy but wearable with jeans.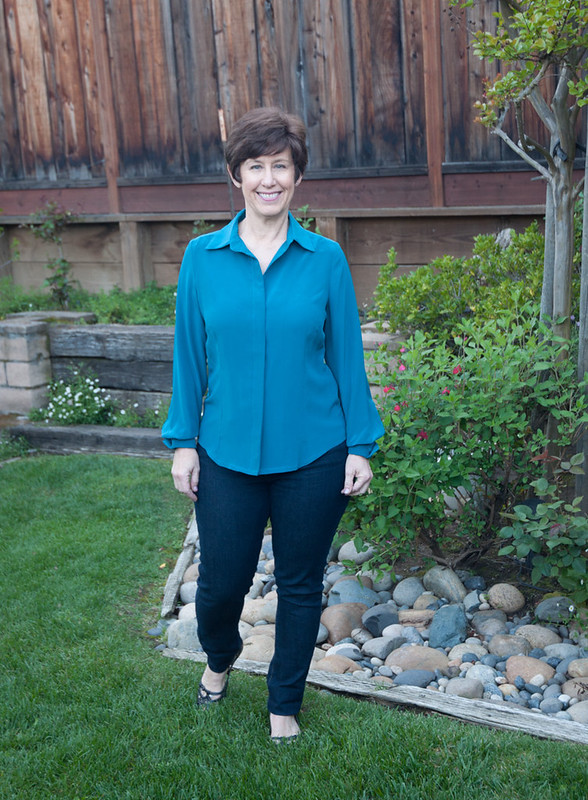 This is my 8th version of this pattern, Simplicity 2339, an Amazing fit pattern. The one with the hideous version on the envelope.
I really like these Amazing fit patterns although the more recent ones have seemed a bit wacky - like they used up all the really nice basic ideas in the beginning and now are just adding peplums or other details to previously existing patterns. (but on the the other hand isn't that the case with all patterns?)
Anyway - if you can figure out what size to make for your shoulders and work your way down with fit (usually taking out some ease) then I think they are really useful as basic patterns.
Back to this shirt pattern - I have never made it as designed - with the button band sewn on as a separate piece. Every time I have fiddled with the front to change the placket. This version is the biggest change, with this hidden buttonhole placket. Today on the Craftsy blog there is my step-by-step post on how to create this placket. It takes a lot of photos to explain it so instead of adding them all here I will just link to that post. Plus it is color-coded! (Ok don't laugh if you look at it and please let me know if it makes sense)
Every time I look at this I just feel relief that any potential buttonhole mishap in this delicate fabric is hidden from view. Plus the sleek front seems right with silk crepe de chine.
A few other construction details, and how rewarding is it to press silk? Am I weird to enjoy this? It is just so satisfying to get that nice crisp crease on a silk fabric. Of course sometimes the iron is in the wrong place and you create a crease where it is not wanted but in a nice silk fabric it usually presses out again. I bought this fabric at Fabric Outlet on Mission St. in San Francisco during one of their 40% off sales. By the way, Tanya did a great post recently on fabric shopping in the bay area,
here is the link.
Check it out if you are traveling this way.
I had these buttons in my button box. Score! I have no idea what I bought them for but I had 12 so perfect quantity for cuffs and center front. Plus they are square which is a detail I like. Also I finally figured out (sort of) my stupid buttonhole foot on my modern Singer machine. Although I still prefer the vintage attachment on my slant needle 1950's Singers but sadly it is not working properly (things don't seem to do as well after you drop them on the floor from height).
There are a few different ways to do cuffs, such as attach from the inside and topstitch down on the outside, plus the reverse of that. I like to attach right sides together and then press in place, lastly stitching all around the cuff to enclose the inside. Though before I get there I press the seams open using my pressing stand.
This is the same technique I use on lapels, collars etc. Press the seam open and then flip over and press on the edge - it is the way to get the sharpest edge possible.
Looking at this photo I see that I used 2 types of interfacing in these cuffs, a lightweight fusible on one side and then silk organza on the other side as they seemed a bit wimpy with only the fusible.
For the hem I stitched about 1/4" from the edge, which makes it easier to press and then turned and pressed again about 3/8".
Typically I don't get that worked up about inside finishing but with a silk shirt it is nice to do french seams and there are really only the side seams and the sleeve seams to do that way so it did. I have narrowed the sleeves on this pattern a good about - like 1.5' as they seemed way to big around the arm for my liking. The shirt seemed too long when I tried it on so I cut off a bit of length and now wondering it is a smidge too short. And the other silk one I thought was too long! I am like Goldilocks - when will it be just right?
Here is the
link to the post on Craftsy.
I just noticed that I didn't show the hidden buttonholes :) but you can see them in the photo below.
So all in all, I think this is my new favorite colors. Plus I have some wool in this shade with a black pencil stripe plaid which will probably make an appearance in the fall for some type of jacket.
Up next - I am sewing up a dress using fabric I designed on
myfabricdesigns.com
. I'm far from being an artist but it is interesting and of course you can choose the colors you like - prepare for some eye-searing fabrics in the next months. Although the first one is not crazy at all and came out really nicely, quite lovely and sewing up into a spring dress. Although not in time for Easter - which may be rainy but we are not complaining! Check out all that greenery behind me - the roses are loving it.
Happy Easter to all,
Beth
another gorgeous tulip appeared this week. I think I planted a few irises as well but they have yet to appear.