What do we call if it you intend to make a wearable muslin but end up making the real thing? Also will I ever overcome my aversion to organization and labeling so that I actually know what is what in my fabric stash? Someone may have an answer to the first question but the second question probably has no answer.
In any case all's well that ends well for this project. I sewed a top for my friend Alice, in a roundabout way.
Take a look at that lovely blue fabric - which she said she bought at Mood NY on our trip there a couple of years ago and she thinks was Liberty cotton. Ok, if you say so 😊. Because I went to try to this pattern for her, as an audition for a different fabric of hers which has been living in my stash (a solid color cotton/silk sateen which a luxurious sheen which we bought who knows where, also teal color). So I bought this New Look pattern which ticks a number of boxes for her, style-wise. Wrap top, cut on sleeves, V-neck. And decided to give it a try.
Some late night rummaging in my spare bedroom fabric closet and I came up with this. A couple of yards and I thought "oh that's nice - I wonder where it came from, probably one of my $2 fabric finds or a swap sale." And if I use this and make it for real (meaning reasonable nice finishing with all facings etc.) then she can wear it.
A close up look at this very nice fabric.
Here's the pattern. I made view C, same as shown on the model. I also like the long sleeve version which has a set-in sleeve although I could do without the neck ruffle which in combination with the sleeves is making it veer into pirate costume shirt territory.
Here's a look on the dress form.
If you look extra closely you might be able to see that I added a 2" band around the bottom of this top as it is definitely on the short side. Alice is quite tall but I tried it on as I was sewing it (of course) and thought it was short on me as well. I think that is part of the style but it seemed out of proportion for a top these days. Fortunately I had enough fabric to add that band which also gave a nice hem finish.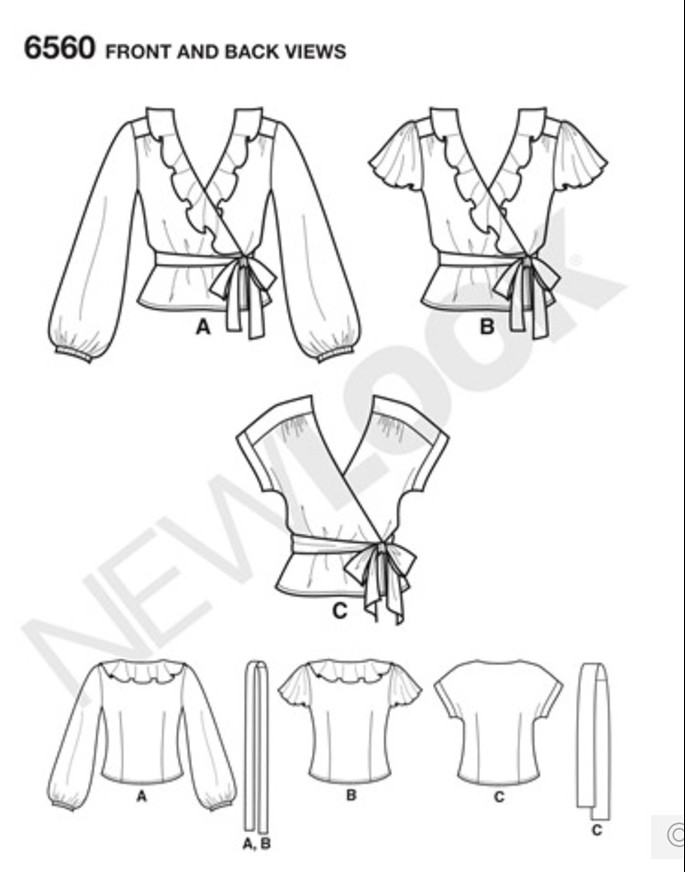 Conclusion - super easy top which is great for a woven fabric you have lingering in your stash. Check the length if you don't like tops on the shorter side.
And still we have sunshine and weather worthy of white jeans! Not complaining, other than the fact that we (always and forever it seems) need rain. And it's too warm to wear a wool coat!.
But that doesn't mean you shouldn't make a coat or jacket with me next weekend, at my Coat/Jacket construction weekend class at Hello Stitch. I know for a fact that some people who are allergic to wool are making heavy cotton or corduroy jackets. All kinds of tips and tricks and construction details apply to any coat or jacket. Here's
the link to register.
What else am I working on? I am on the home stretch for Heather's
silk wrap dress
Vogue 8784 which will have a full blog post when I can take some photos of her wearing.
And I found a jacket in the closet in my sewing room - which I vaguely recall starting last winter for a previous session of my jacket class, and I guess spring intervened so I put it away unfinished. But now I sewed up a pair of stretch cotton jeans (using my own pattern copied from RTW jeans) and the color of jacket and jeans are an amazing match. Too suit-y? I will have to finish it after next weekend and see.
By the way, in my class I will be demoing a lot of construction on a blazer jacket. I chose this pattern as it has a lot of details which are great to learn, such as welt pockets, lining, numerous darts, setting in a jacket sleeve etc.
I made a muslin to test style and fit for Heather - so will be making a wearable muslin in a solid navy wool as a practice run for sewing up the wine color tweed she recently bought at Britex.
And then it will be on to some selfish sewing - my Burda magazines have been piling up and I've seen a few really cute things I want to do. Plus it would be fun to participate in the #sewfrosting on IG which means I need to decide on something slightly frivolous and fun.
While the sunshine holds up I will get out in the garden tomorrow - the battle with the squirrels and my tulip bulbs is continuing. And if you notice in the first photo, I'm really getting into succulents which are very satisfying - they are so easy to propagate.
Happy almost Halloween sewing, Beth
today's garden photo, there are still have a few roses around, some years we've had blooms up until Christmas.